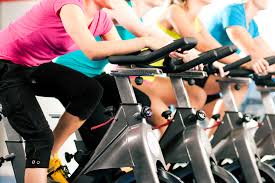 Saturdays at 8:30a
Cardio Cycling is back w/ NEW Instructor
Join in this class and welcome Jaime, our newest CTF Group Fitness Instructor. With years of experience and technique in leading fun and energetic local group fitness classes / Spin and Cycling, Jaime is excited to be your coach for this NEW high intensity, energetic and fun class.
Hey CTF Members, this class is a favorite, so bring a friend or guest, jump on a bike and go for it!
Group Fitness Classes are ACTIVE and included in your CTF Membership!
We are still maintaining cleaning equipment protocols to help get you back in the groove and moving again 2022. Join us with and try a 3 Day Trial!
For additional questions and class sizes
Contact Us: (317) 580-8111 or Sean Eastes / CTF AGM and our Facebook page
Class
Monday (September 26, 2022)
Tuesday (September 27, 2022)
Wednesday (September 28, 2022)
Thursday (September 29, 2022)
Friday (September 30, 2022)
Saturday (October 1, 2022)
This class is a combination of cardio and strength training. Your instructor will lead you through a variety...